Our School and Zhejiang Kindall Law Firm held a Signing Ceremony for the Bonus for Teachers
source:法学院
The author:法学院
time:2021-01-05
On the morning of September 23rd, the strategic cooperation negotiation and award signing ceremony between our school and Zhejiang Kindall Law Firm was held in Conference Room 301 of Law School. Xu Zongxin, founder and lifelong honorary director of Zhejiang Kindall Law Firm, Sun Libo, current director, Ren Deshun, secretary of the Communist Youth League branch, and Wang Yun, assistant director, attended the meeting. Hao Tiechuan, dean of our college, Feng Ya, Secretary, deputy deans Shao Shao and Wang Hongfei, etc. attended the negotiation, exchange and signing ceremony.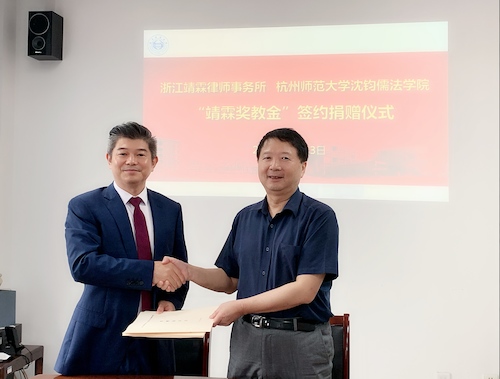 On behalf of the college, Dean Hao Tiechuan first thanked Zhejiang Kindall Law Firm for donating the bonus to the college. Dean Hao introduced the development course of the school and the current teachers, disciplines and majors of the college to the guests. He said that criminal defense activities are the barometer and vane of the rule of law civilization, and that a good criminal defense represents the perfection of human rights protection, which is of great social significance. Kindall Law Firm is one of the best law firms in criminal defense activities, which has great characteristics in academic research, professional training and legal practice. Shen Junru Law School is a harmonious, united and young team. With a sound mechanism guarantee, the college will have a better development prospect.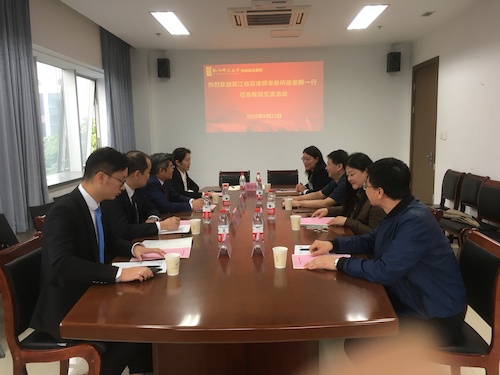 Director Xu Zongxin thanked Dean Hao Tiechuan and the Institute for providing the opportunity and platform for law firms to participate in the construction of law schools. He said that Dean Hao Tiechuan enjoys a very high influence in the academic circles, and believes that under the leadership of Dean Hao and through the concerted efforts of teachers, the young and vigorous law school will surely move towards glory. He hoped that the two sides would have more business exchanges and cooperation in the future, and carry out activities in a down-to-earth manner in such aspects as speech and debate training, academic salon and mock trial construction, so as to achieve a win-win situation and make the establishment of bonus more valuable and meaningful.
At the meeting, the two sides discussed the business exchanges between teachers and lawyers, mutual learning and advancement, academic lectures and salons, and personnel training.
Tel:0571-28865484 Fax:0571-28865484 Address: zhejiang province hangzhou city yuhang district warehouse before yuhang street pond road 2318 zip code: 311121 All rights reserved 2020 shen junru of hangzhou normal university law school Zhejiang ICP for 13032447 Technical support:
Million school cloud