The First Civil Administrative Procuratorial Research Base Jointly Established by the Procuratorate and the School in Zhejiang was Established in Our School
source:法学院
The author:法学院
time:2021-01-04
On the morning of June 16th, the unveiling ceremony of the first civil and administrative procuratorial research base jointly built by the Procuratorate and the School was held in Cangqian Campus of our school.
Hu Hua, Vice President, and Xu Jianfeng, Deputy Procurator-General of Hangzhou Procuratorate, signed the Cooperation Agreement on the Establishment of Civil and Administrative Procuratorial Research Base of Hangzhou Normal University of Hangzhou People's Procuratorate, and unveiled the "Civil and Administrative Procuratorial Research Base". Relevant leaders of Hangzhou Procuratorate, heads of relevant functional departments of our school, members of the Party and Government leadership team of the Law School and teachers' representatives witnessed the signing and unveiling ceremony.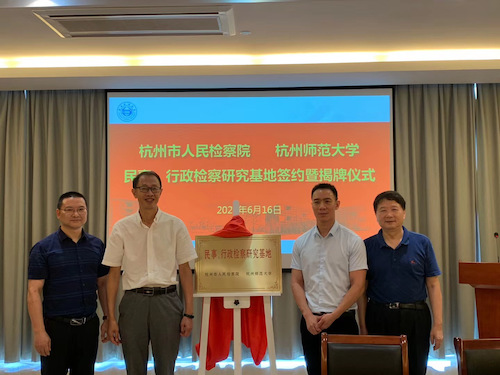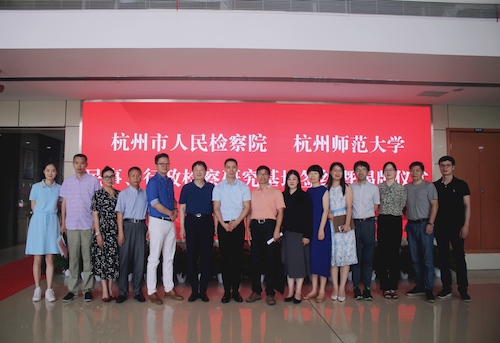 Xu Jianfeng, deputy procurator-general of Hangzhou Procuratorate, believes that the deep cooperation between procuratorial organs and Hangzhou Normal University and the joint establishment of a base will carry out systematic and rigorous research on the theoretical and practical issues of civil and administrative procuratorial work, and provide theoretical guarantee for promoting the comprehensive, coordinated and sustainable development of the "Four Procuratorates".
Professor Hao Tiechuan, Dean of Shen Junru Law School, said that Shen Junru Law School of Hangzhou Normal University will give full play to its theoretical research expertise, deepen the interaction between procuratorate and school, and realize long-term cooperation between the two sides in theoretical research, practical base, application of achievements, academic exchange and personnel training, so that the base can produce fruitful results.
At the meeting, the two sides also discussed issues related to civil and administrative supervision and joint application of academic topics.
Tel:0571-28865484 Fax:0571-28865484 Address: zhejiang province hangzhou city yuhang district warehouse before yuhang street pond road 2318 zip code: 311121 All rights reserved 2020 shen junru of hangzhou normal university law school Zhejiang ICP for 13032447 Technical support:
Million school cloud